Tattoos of Tibetan Ex-Political Prisoners: Pema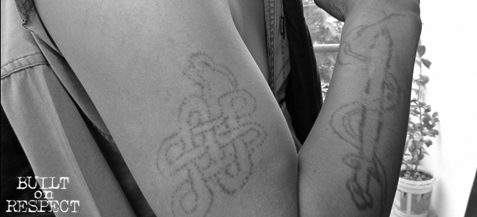 Pema was born in a nomadic area in Amdo; he came to India in the end of '95, walking through the Himalayas took 23 days.
As a child, Pema recalls his grandmother telling him stories about the 1959 Tibetan uprisings; she was only 15 then and recounted finding her father's body in the streets, and her brother forced to flee the area to avoid arrest. Every day, while others were tending to their herds, his grandmother would tell him these stories.
Pema remembers there was a small cinema in his father's village that showed Chinese Communist propaganda films — about WW2, the Japanese, and the 'liberation' in Lhasa.  He and his friends played fighting games, and he thought his country was China.  As he became a teenager, he became fully aware of Tibet's plight and political situation.
Several members in Pema's family only spoke Chinese, not their native Tibetan.  Pema says his uncle once showed him a video of His Holiness the Dalai Lama (illegal to possess), and asked him to translate, and teach him Tibetan.  Through his uncle, Pema was able to get a copy of the Dalai Lama's biography; he read this while tending to the family's animals in the fields, and began to realize his grandmother's tales were true.
Knife and Sword Tattoo: When Pema was 16, he and his group of friends got into a large fight with local Chinese youths during a festival.  He was put in a local detention center for one month; he was the youngest of his friends.  The prison required Pema and his friends to pay for the injuries of Chinese youth. While there, he met a young Chinese man who was in on robbery charges who 'challenged' Pema to get a tattoo.  The other inmate suggested a snake tattoo, which Pema thought was 'angry', he suggested a sword, which he thought was more 'dangerous'. The artist suggested they merge the two; the tattoo was done by hand, with a needle wrapped with thread soaked in black calligraphy ink.
When he returned from prison, his mother saw his tattoo and tried to wash it off. Like many Tibetans, she thought tattoos were bad, and that when Pema died, the lamas would not be ale to find his soul and the vultures would not want to eat his flesh, as is custom in a Tibetan sky burial.  Pema used a knife, and cut out sections of the ink in attempts to please his mother.
The Auspicious Knot Tattoo: In '94 Pema tried to come to India; he and a young monk from Kirti monastery were arrested at the border and sent to a detention center in Shigatse for one month.  While in prison, authorities took all Pema's possessions, and put him trough 'political reform' trying to indoctrinate him with Chinese Communist propaganda.  Pema and the Kirti monk both tattooed the Tibetan Buddhist symbol, the Auspicious Knot, on each other in the Shigatse detention center.  When Pema asked the monk what the knot meant, the monk told him it was a symbol of souls traveling via karma and it helps in the souls' travels. He remembered his grandmother said symbols could help presents disasters, and he liked the design, so he got it.  He doesn't view it as something that protects him, but it eases his mind. While tattooing in the detention center was not allowed, he said the guards overlooked it.
Upon his release, Pema went to Nari Pass and there he worked for four months to raise money to pay a guide to India.
He has since tried to return to Tibet, but his family warned him not to after other family friends were sentenced to 18 and 20 years for doing peaceful marches in Tibet.