Offering a Home to Creativity

It's no secret the Tibetan Government has been in exile for 51 years, and an extraordinary culture and life has bloomed in exile.
The streets of Dharamsala are filled with juxtaposition – a culture previously isolated has collided with the modern world at an astoundingly fast pace. The first generation of elders offspring are now easily having their own children – Tibetans who have never been to their homeland.

Differing opinions on Tibetan politics abound – some pro HH the Dalai Lama's middle way, others feeling it is too passive.
As tourists come through the northern India streets, they leave bits of their cultures. With the rise of the Internet, this small mountain town is far from isolated. Small restaurants play Shakira, and the towns' two night spots favor hiphop and modern Tibetan songs.
For the past two years, I have been fascinated with this collision of cultures. I've met young Tibetans who embrace traditional music – whilst their skin bears tattoos of ancient symbols. Artists in track pants paint thangka in traditional methods dating back thousands of years.
What I had not yet seen was modern Tibetan art – mostly because up until this past week, there was not a space dedicated to it. Art is a labor of love and passion, and throughout time, is has been most charged during times of paradigm shifts. The Tibetan culture is definitely in the midst of a paradigm shift: modern influences are colliding with an ancient culture steeped in religion and tradition.
Tashi, a young Tibetan, recognized this collision, and has opened the first contemporary art gallery, Peak Art, in Dharamsala. The gallery is curated by a young American, Sarah Mac. When you enter, the space is deceptive – after years in New York, I felt the urban aesthetic immediately – raw white walls, good lighting, and the use of found objects to create seating and special divides.
Several of the pieces embrace the traditional image of Buddha, while others embrace Buddhism's principle concepts, such as impermanence.
Artists are also showing images from Tibet – a man riding on horseback, and landscape – whilst others capture emotions, and the new landscapes of Tibetan culture – a view from Tibetan Children's Village.
While there is no website yet available for the gallery, this space is truly answering a need for emerging artists.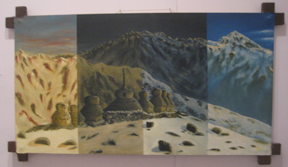 Impermanence by Lobsang Dorjee
Lobsang Dorjee was born in India in 1974. He has been painting and drawing on and off for most of his adult life and is entirely self taught.

After beginning the study of Tibetan thangka painting in 2005, Lobsang quickly became a skilled painter in this traditional art.

His contemporary works are painted for his own enjoyment and hopefully the enjoyment of others. Lobsang currently lives and paints at his home near Dal Lake, Dharamsala.
This is his first exhibition.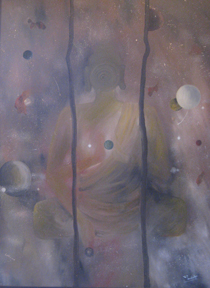 Buddha Space by Tenzin Dakpa

Lonely by Tenzin Dakpa
Tenzin Dakpa was born in India and attended TCV school. In 2009 he graduated from the Delhi College of Art, and later that year he had two exhibitions at Namgyal Monastery as part of the '50 Years in Exile' exhibition.

Buddha by Tenzin Gawa
Tenzin Gawa born in into exile. Growing up in Manali he was inspired to paint what he saw around him. He was a student at Tibetan Children's Village in Pathlikul before leaving school in the middle of class 8 to pursue a career in art.

Tenzin studied Thanka painting in Lahdakh for three years. As he learned to paint in the Thanka style he became more interested in contemporary art. After completing his training in Lahdakh, Tenzin traveled India for several years painting Buddhist monasteries.

When Tenzin paints contemporary art sometimes he feels as if his hand still thinks that he is a Thanka painter, because he has to intentionally stop it from painting in the formal Thanka style. This is Tenzin's first contemporary art exhibition.