Tattoos of Tibetan Ex-Political Prisoners: Dorjee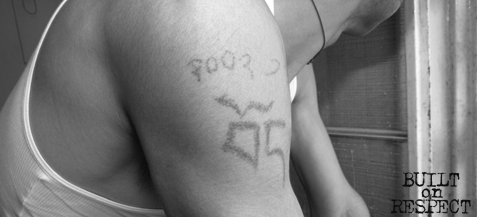 [VIDEO] Dorjee is 29 years old, he fled Tibet for India six years ago because there was "no freedom in Tibet". He has "Bod Rangzen" (Freedom for Tibet) tattooed on his upper right arm. At first he tattooed both words in blue ink but it faded. Later he redid the tattoo in darker ink to only read "Bod".
Above the Bod Rangzen is the date 2002. This is when Dorjee did the 'political action' – that is, he hung a two meter wide Tibetan flag on a bridge in his hometown. It is illegal to have a Tibetan flag in Tibet, but he was able to get a picture of one from people he knew.
A painter by trade, he worked quietly alone for more than a more a month painting two flags on a big piece of cloth. His original intent was to keep the flag for himself, but since it took so long to complete, he felt it was worth hanging for others to see. He hung it on the bridge the third day of the new year, which is one of the largest festivals in Tibet.
Dorjee signed his name under the flag. He did this because he did not want others to take the blame for his actions. When there is a 'political action' in Tibet, police harass the monks first – he did not want trouble for the monastery or anyone else. He was able to evade the Chinese and began to wander around the country to avoid arrest.
Dorjee made multiple attempts to flee Tibet. In 2003, and then again in 2004, he tried to escape to India, but was arrested both times. During his first arrest in 2003, he was jailed for 6 months. He as detained in a basement cell with no light and no place to lie down but the wet floor. He went on a hunger strike, which caused him to become sick and vomit blood. Because the guards realized he was in serious condition, he was released from prison.
When he recovered, he tried in 2004 to flee again but was arrested. He was again caught but this time he pretended to be a mute. While in a detention center, he tried to escape out a window. A soldier caught him, strapped him down and kicked his chest for 3 hours. No matter how hard they beat him, he suppressed using any words. After 15 days of imprisonment, he was again released. In 2005, on his third attempt, he reached Nepal.
Dojee's tattoos were done by hand. His family has never seen them.